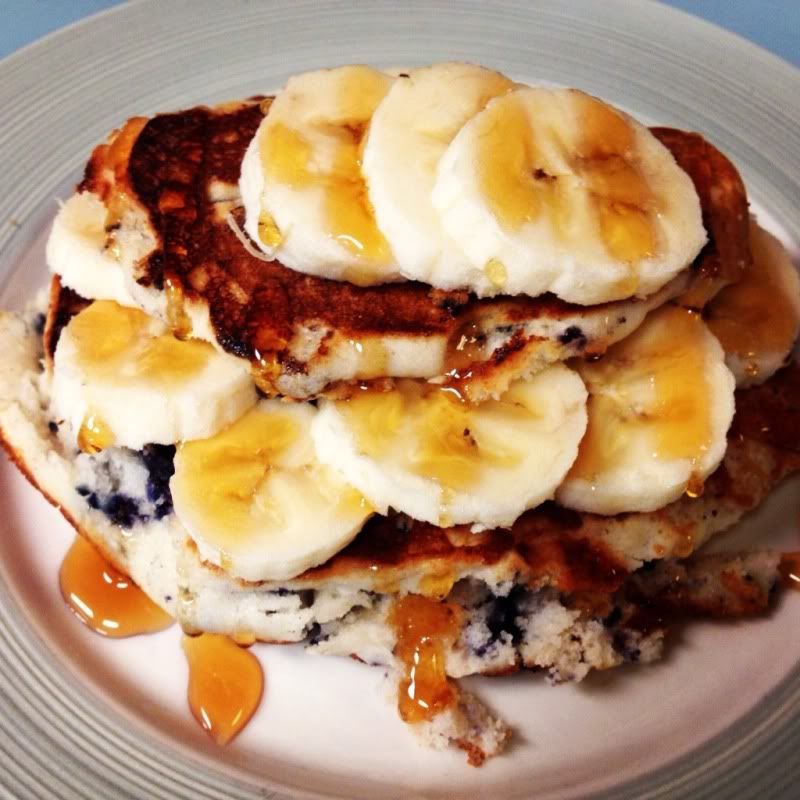 Blueberry Muffin Pancake Recipe
Ingredients:
2 whole bananas, sliced
2 cups blueberries, rinsed and carefully drained
2 cups all-purpose flour (260 grams), or 2¼ cups pastry flour, sifted
½ cup granulated sugar
1 Tbsp baking powder
½ tsp salt
1 cup whole milk
1 tsp pure vanilla extract
1 large egg (or 2 medium)
4 oz butter (½ stick) or shortening
1/3 cup honey
Directions:
Combine the flour, baking powder, sugar and salt in a large bowl.
In a small microwave-safe bowl, heat the butter in the microwave for
about a minute, until it's thoroughly melted. Or you can just melt it
in a small pan over very low heat. Set the melted butter aside at room
temperature to cool, but don't let it solidify again.
In a separate bowl, beat the eggs and then add the milk and vanilla.
Thoroughly grease a pancake skillet and preheat it on the stove.
Pour a tiny bit of the melted butter into the egg-vanilla-milk
mixture and stir it in. Repeat 3-4 more times, adding a slightly larger
amount of the liquid butter each time until it is all incorporated.

IMPORTANT: Don't add hot melted butter to the egg mixture as the
heat from the butter would cook the egg, and that's not what you want to
do!
dd the liquid ingredients to the dry ones and mix no more than ten seconds.
The batter should be visibly lumpy. That's OK! It's extremely important
not to over mix the batter, or the resulting muffins will be too hard.
Using a rubber spatula, gently fold the blueberries into the batter.
Then carefully spoon the batter into the prepared pancake skillet (you can
use a small ladle or even an ice-cream scoop) and cook immediately. [You cook them just like pancakes, wait for them to bubble and watch for the edges to turn crisp before flipping, the consistency will be like a muffin bottom though.]

TIP: The dry and wet ingredients, respectively, can be mixed in
advance, but as soon as the wet and dry ingredients have been combined
with each other, the liquid will activate the baking powder and the
batter needs to be baked right away.
*Once the pancake muffins are cooked garnish them with sliced banana, blueberries, or whatever other fruit of your choice and drizzle with honey.